Ashton Kutcher recently sat with Howard Stern for a candid interview covering love and money, and it's obvious that the 39-year-old actor and investor has come a long way since Dude, Where's My Car? and Punk'd.
Ashton is now married to Mila Kunis, his former co-star with whom he had a troublesome onscreen romance on That '70s Show. The best dialogue on that show always started with a whiney "Jackie!!" or "Kelso?!?".
But there wasn't always a real life romantic connection between the couple. In fact they've stated that their relationship transformed from co-stars, to "siblings", to friends, to friends-with-benefits, to dating, to co-parents, before finally becoming a married couple. They got there in the end!
The actor recalled the strange start to their relationship: "I think I was her first kiss, like, on the show…It was really weird. I was like, 'Isn't this illegal?' It was really awkward. She was 14! She was like my little sister. I wanted to make sure she was OK."
The feeling was mutual at the time too. Although Mila thought he was "cute", he was "annoying, like an older brother". He also did her chemistry homework for her. Is all of this creepy or nice? I'm not sure.
Kunis and Kutcher both had 10-year relationships, with Home Alone star Macaulay Culkin and 90s bombshell Demi Moore respectively. Kutcher spoke about his divorce from Moore, saying that it hurts to not see her kids anymore after helping to raise them for 10 years. Understandably, Kutcher and Kunis were both not ready for a relationship when they started flirting at a party.
"She's like, 'You're not ready to be in a relationship' and I'm like, 'I'm not ready to be a in a relationship'," Ashton said. "It was funny because I'd just done this movie called No Strings Attached and she just did a movie called Friends With Benefits and we legitimately lived out our movies, which was virtually the same movie."
So fiction became reality as fingers went into OK signs.
Along with That '70s Show, there were simply too many things pulling the couple together. But they're definitely not reluctant to display their love anymore. They now have two children and Bachelor date nights! Yep they're in Bachelor Nation and even appeared on this season of the US series The Bachelorette. They helped current-Bachelorette Rachel Lindsay host an obstacle-filled husband Olympics on a group date.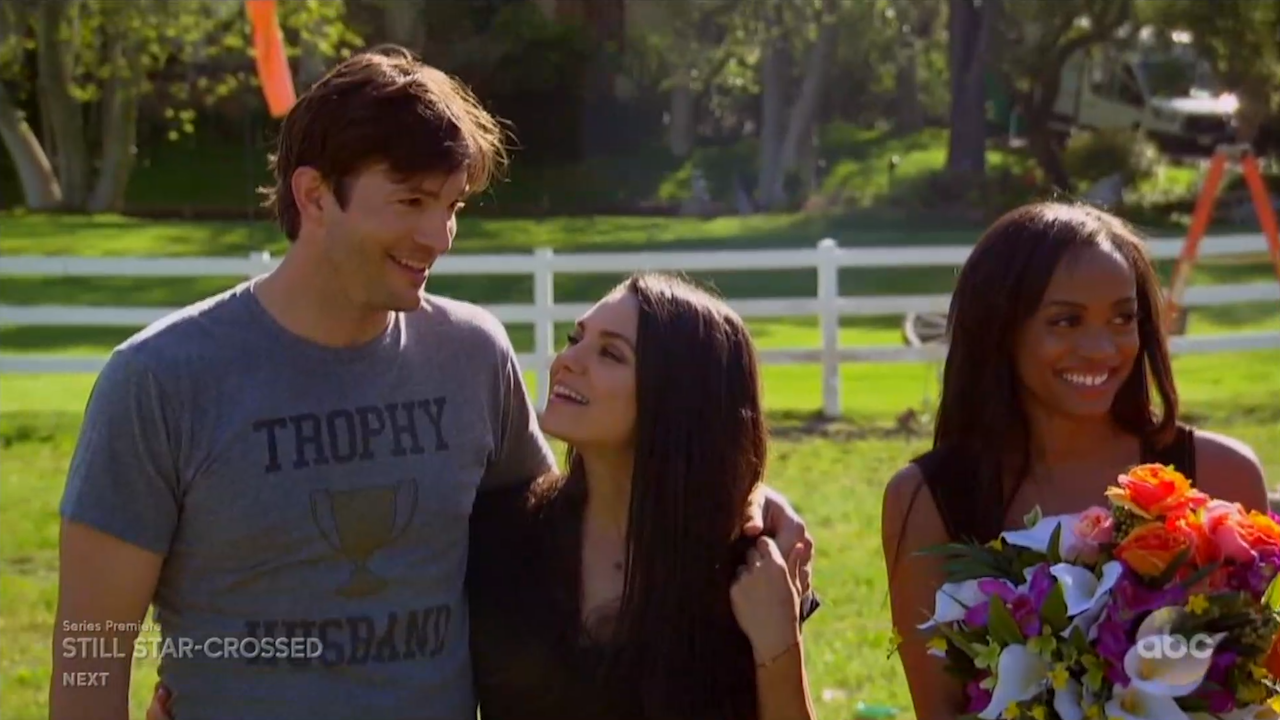 The appearance on TV wasn't novel for Kutcher, who stars in the hit show Two and A Half Men. Kutcher turned millions of heads when he replaced Charlie Sheen on the show. The movie star admitted even he was hesitant at first: "Here's the thing: I was shocked I took the role in Two and a Half Men. I had no interest — I was doing movies."
But he agreed with the promise of $755,000 per episode and a tonne of money to come from syndication deals after two years once the series was packaged, sold, and played and replayed globally.
"I'm faced with this decision I didn't really see coming…It was a very, very, very nice payday," said Kutcher.
Not as nice as Sheen's used to be, though, as he was raking in $1.8 million per episode from the hit series. Ashton commented on Sheen's departure and 2010 meltdown: "I don't understand his choices, I don't know that he'll ultimately understand his choices, but he made the choice that he made. I think it was things he was putting in his body that were affecting his decision-making."
Ashton multiplied his millions into even more millions with investments including shares in Uber and Airbnb. Despite rejecting Snapchat three times, his fortune has grown so much that he's had to employ a team to manage his investments. Not bad for a cheeky dude who created the MTV series Punk'd to ruthlessly prank celebrities, hosting it for five years.
Kutcher has probably more than made up for his mischievous behaviour. He's an outspoken figure who supports many charities and campaigns against sex trafficking, sexism, and pollution, to name a few.
He is also incredibly loving, protective and compassionate of his fraternal twin brother Michael, who has cerebral palsy and cardiomyopathy. Michael had a heart transplant when they were just children and Ashton feared for his twin brother so much that he considered suicide. Michael is now a motivational speaker and spokesperson for the advocacy organisation Reaching for the Stars and Ashton couldn't be prouder.
So if you've ever discounted Ashton Kutcher as a dumb, annoying bro-dude, you can stand corrected*.
*(unless you're Mila Kunis, in which case you've already corrected the error and made babies with him)